What is a Demat account:
A Demat account is a type of account that is used to store hold electronic shares and securities. The full form of the Demat account is a dematerialised account. The objective of the Demat account is to keep shares that have been purchased or dematerialized (converted from physical to electronic shares), making online share trading easier for users. Depositories in India, such as NSDL and CDSL, offer free Demat accounts. These services are made possible by intermediaries, depository participants, or stockbrokers. Demat account prices vary depending on the amount stored in the account, the type of subscription, and the terms and conditions between a depository and an intermediary.
Benefits of Demat account:
Reduces risks:Physical securities are risky since they can be stolen, lost, or damaged. Furthermore, faulty deliveries or phoney securities pose additional dangers. With the opening of a Demat account, which allows holders to hold all of their investments in electronic form, these dangers are fully avoided.
Easy:Physical certificate maintenance is a time-consuming task. Furthermore, maintaining track of their performance is an additional burden. The Demat account holders can make it easier to manage and track all of their investments by consolidating them into a single account.
Convenient:With physical certificates, buying and selling were possible only in the specified quantities. The convenience of dealing with odd lots or single security was also not available. Demat accounts eliminate this issue.
Reduced costs:Physical certificates involved several additional costs, such as stamp duty, handling charges, and other such expenses. These extra expenses are eliminated with Demat accounts.
Reduced time:The time required to complete a transaction is reduced due to the elimination of paperwork. The account holder can perform more purchases and sells of security holdings in less time and with higher efficiency because the time required has been reduced. The Demat accounts are easy to use, hassle-free, and incredibly profitable. They are a must for financial planning in today's world.
How to open a Demat account?
Customer needs to approach the broker to open the Demat account.
Fill the account opening form
Enter details viz. Name, email id, mobile number, address, etc.
Upload KYC documents viz. PAN, Aadhar Card, Passport, Voter id, driving licence.
Bank details: Cancelled cheque with printed name
Upload signature on the application form
In-person verification by taking a Selfie
e-verification will be done to check the mobile number and Aadhar card are linked
Following the submission of the application form, You will receive an email confirmation with your login details within 24 hours
Demat account charges are 999/- for 3 years
Broker: Stock Holding Corporation Ltd. Share your details if you want us to help you open your Demat account
The client needs to follow a simple process wherein Stepwise Process
Quick Registration page: Enter Name, Email ID & Mobile Number and tick the declaration (all are mandatory)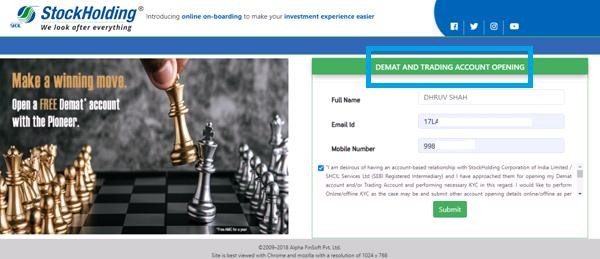 PAN Verification page: Enter valid PAN number, date of birth and verify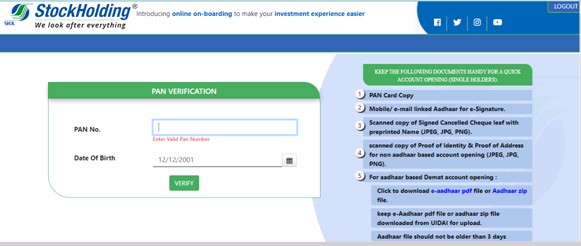 Demat Account Opening Process
The system will give an option to select for Aadhar based account opening or KRA-based account opening.

On selecting Aadhar based Account opening through e-Aadhar, the screen, as shown below, would appear for uploading the e-Aadhar file. Aadhar file should be downloaded from the UIDAI site and should not be older than 3 days. The option has also been made available to download through the Aadhar site.
After successful completion of e-KYC, the system will be prompted for OTP-based verification of email id and mobile number.

Click on Get OTP

Enter both the OTPs and click authenticate

The client has to mandatorily verify OTP for both e-mail and mobile. On successful verification, the following popup message will be displayed:
Detailed stepwise options for filling the Online detail: The Client would be directed to the simple Account Opening process and the below-mentioned options would be available for the Client to be filled in sequential order (6 steps). Further, only on Success message confirmation, the Client would be allowed to go to the next page.
Personal Details
Bank Details
Additional Details
Document Details
Scheme and Payment
E-signature
A: Personal Details Page:
Details would be prepopulated from e-KYC and only the remaining fields which are not populated from the e-KYC need to be filled.

For any details which are mandatory and not filled, the same would be highlighted and the Client would be prompted to fill the same at the time of saving the Personal Details.

The Demat account would be opened in your name as per Aadhar.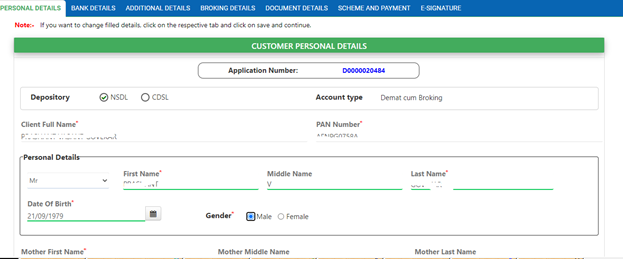 B: Bank Details tab:
Upload only scanned cheque leaf with pre-printed name and signature. Kindly note that the signature available on the cheque leaf would be considered as a signature for this account. Enter Account Type, Bank A/C Number, IFSC Code, and system populate Client Name, Bank Name, Bank address with Pincode, and MICR details as per IFSC code.

On the population of this data, the bank account of the Client will be verified through the Penny Drop facility and Re.1 will be credited to the registered bank account of the client.

In case the Bank verification is pending or is not successful the Client would be shown a message and would be requested to try try again after some time.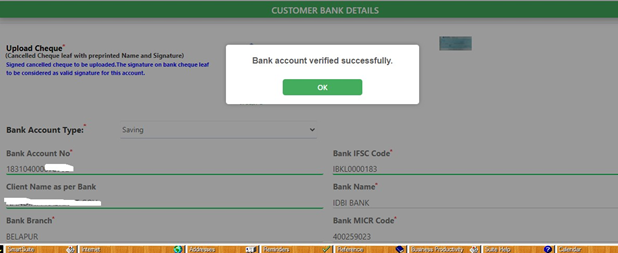 C: Additional details:
Enter the additional details and select the suitable options in the standing instruction table.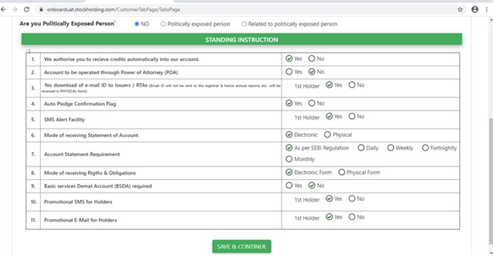 D: Document details page:
On this page, the live photograph and relevant proofs will be saved in the system:
Ensure to allow access to the camera and location.

The live photo will be captured with geotagging and the timestamp as per SEBI guidelines.

On clicking the Crop Signature option, the system will open the bank cheque leaf uploaded by you with the option to crop/select the signature.

Upload PAN image and then click on save and continue.
E: Scheme and Payment Page: Tariff as Applicable would be shown to Client
In case of any charges to be paid, the client would be re-directed to the Online Payment Gateway page and can select the option to pay through Net Banking, Credit Card, Debit Card, UPI, etc. After successful payment, the client will receive a receipt of the transaction on the registered email id.

To view tariff structure, click on view tariff plan.

Client"s who are linked with Business Associates, have the option to enter their code and Tariff plan.

Click on the tariff plan button and then save and continue.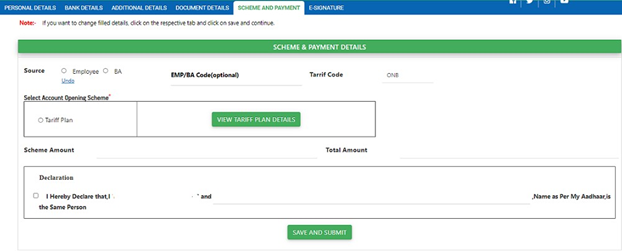 On entering all the above details a preview of the form would be made available. Preview the form and if some changes are to be made click on edit else close the preview.
F: e-Signature Page with declarations
Click on the ."I accept" button after reading the declaration

Preview PDF- if you wish to again view before final submission

Click on " Proceed with e-Sign".

Click Submit

You will be redirected to NSDL Page wherein you need to

Tick the declaration.

Enter your Aadhar Number or VID

Click Request OTP

Enter OTP(It will be received on the mobile no. and email id linked to your Aadhar)

An E-signed PDF will be downloaded
Is my account opened?
The account opening process is complete, and a message giving your Demat Account Number with name in which the account would be opened would be shown for reference. However, the same would be activated subject to verification by StockHolding.
You can download the pdf for future reference.

A confirmation would be sent on your registered email ID with PDF file of your Account opening document.

On clicking the Crop Signature option, the system will open the bank cheque leaf uploaded by you with the option to crop/select the signature.

What to do in case of incomplete entry?:
If you have an incomplete application you can re-visit the link and the below-mentioned page will appear

Click on "Click to complete registration"

You may now follow the steps mentioned above to complete filling the Demat application form from where you left
You may connect with our nearest StockHolding branch or call our CustomerCare Team on 022 61778500 / email our Customer Care team @ customercare@stockholding.com in case of further clarifications.
Product Team DP and Broking
Centre Point, Unit No 301, 3rd Floor, Dr . B Ambedkar RD, Parel Mumbai – 400012 StockHolding website: www.stockholding.com